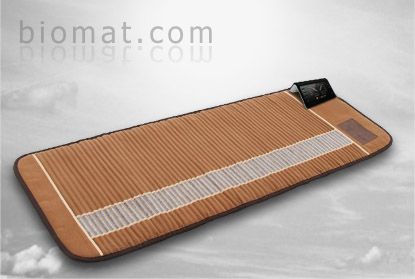 I use this mat on my massage bed for every massage client! The temperature and duration can be tailored to your comfort level.
I also sell them via my website on the below link.
"The BioMat's unique medical and therapeutic properties are based on Nobel prize-winning research into ionic channels and the same infrared technology that NASA identified as the safest and most beneficial type of light wave. By producing deep-penetrating, far infrared rays along with negative ions that activate the body at the molecular level, the BioMat is capable of administering deep stimulation and pain relief and muscle relaxation."
Click here for more information and to purchase your own biomat:
http://kuhlmassage.biomat.com/
Schedule your appointment to escape onto a relaxing Biomat pad. No need to get undressed. Healthy Benefits. Quiet room. Quick lunch hour retreat!
"The Basics
Feel free to browse this list of the most frequently asked questions about the BioMat range of products and the Alkal-Life Water Ionizer. If you have further questions, please don't hesitate to contact us for more information.
What are far infrared rays?
Far infrared rays are part of the electro-magnetic light spectrum and are close to the light frequency of natural sunlight. However, far infrared does not contain any of sunlight's harmful UV/UVB radiation. The beneficial properties of far infrared light have received particular attention from the scientific community in recent years, although the first research conducted on this part of the light spectrum was undertaken by NASA decades ago. More recent studies suggest that far infrared light stimulates the production of healthy cell tissue, promoting faster, more complete healing processes. Far infrared therapy also encourages the elimination of cellular wastes and toxins. Today, health practitioners from a wide range of disciplines agree on the beneficial properties of far infrared technology.
What are negative ions?
An ion is a particle containing an electrical charge. An ion with a negative electrical charge is called a negative ion, and this type of ion is now considered to be integral to healthy cellular function. If there are enough negative ions inside and outside the cell, the cell is able to absorb nutrients and eliminate waste product more effectively. Flooding the body with negative ions enriches it at the cellular level and encourages the elimination of toxins and oxidants.
How does the BioMat deliver far infrared rays and negative ions to the human body?
The BioMat stimulates ion channels by producing negative ions that deliver healing energy to the cells of the body. The topmost layer of the BioMat is constructed of superconducting channels of pure amethyst, which allow the far infrared rays and negative ions to penetrate the body as far as seven inches. View an illustration of BioMat layer technology.
How do far infrared rays and negative ions affect the human body?
Far infrared rays and negative ions produce a wide array of positive effects on the human body. Negative ions activate the body's entire cellular communication system by opening cell channels and allowing nutrients to enter more easily and wastes to be eliminated, purifying the body at the cellular level. Far infrared rays deliver deep warmth and stimulation to the entire circulatory, lymphatic, endocrine and nervous system to encourage healthy functioning. A healthy circulatory and lymphatic system delivers nutrients and oxygen to the cells of the body, and removes cell waste, while the endocrine system regulates hormonal uptake in our bodies, which controls everything from our mood, tissue growth and health to metabolism and sexual and reproductive functions.
How does amethyst quartz enhance ionic and far infrared ray therapy?
Amethyst's healing properties have been acknowledged and celebrated for centuries by ancient scientists, healers and mystics. Now, modern science has confirmed the highly conductive properties of this remarkable mineral. Amethyst crystals offer the most consistent and powerful delivery of far infrared light waves, and ionic effects to the human body.
What specific illnesses and symptoms can the BioMat alleviate?
Because the BioMat's far infrared rays penetrate deeply into the body and address imbalances at the cellular level, it can be used to treat a wide range of health issues.
US FDA's Medical Device510K indications for use:
Temporary relief of:
Minor muscle pain,
Minor joint pain and stiffness,
Joint paint associated with arthritis,
Muscle spasms,
Minor sprains,
Minor strains,
Minor muscular back pain,
Relaxation of muscles,
Increase of local circulation where applied"
Per Richway Biomat website.