Bon Vital Foot Balm - Originating from a family recipe in the Austrian Alpine region near Salzburg, our Foot Balm has over 60 years of creating Wellness for the Feet. Carefully selected blend of ingredients like Austrian Dwarf Pine oil, Horse Chestnut extract, Menthol, Farnesol and Aloe Vera make this the most powerful vitamin infused moisturizing balm on the market! 3.38 oz tube $11.50 Samples available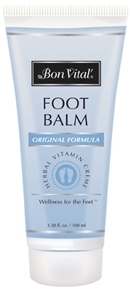 Bon Vital Body Polish - this luxurious creme based exfoliating polish uses crushed walnut shells to aggressively remove the natural dead skin cells while the Sweet Almond, Chamomile and Aloe Vera moisturize and penetrate deep within the layers of skin to nourish with vitamins and minerals. Can be easily removed with warm, moist towels or shower; make this a part of your weekly regimen. $23.00 ($19.00 if you mention this website)

Bon Vital: Sugar Scrubs and Salt Glows - $13.95 for 8 oz jar/tube
Salt Glow: Lavender & Rosemary Combo, Peppermint & Eucalyptus Combo
Time to refresh, revive and reveal a healthy glow to the skin! Flaky, dry, or dull skin is o longer an issue with this stimulating formula. Therapeutic Dead Sea Salt removes impurities and dead skin cells, while Jojoba, Olive and Safflower oils soften and moisturize. $10.00
Warranty: 2 years Shelf Life: 2 years
WILL BE ORDERING SALT GLOWS AT A LATER TIME.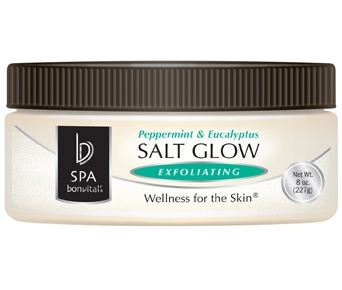 Sugar Scrub: Pink Grapefruit, Pomegranate & Acai Berry Combo, Mojito
Looking for that WOW effect? This sweet scrub is the answer! Jojoba, Olive and Safflower oils are combined with sugar to scrub away impurities and dead skin cells. Refresh, revive and reveal a healthy glow to the skin. Fortified with sugar. Safe to use on all skin types. Non-sticky and easy rinse-off formula. $10.00
Warranty: 2 years Shelf Life: 2 years
This is MY BEST SELLER!! I've had clients buy 6 jars at a time!! Now in convenient tubes!!